At Viewpark Parish Church we have a continuous programme of events and courses intended to teach and nurture us in the Christian Faith.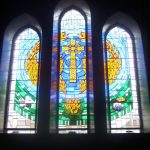 Share your journey of faith with others as we learn from one another and from the Bible. Please feel free to join us, or if you would like more information please contact the minister.
Current activities build on a continuous programme of groups held to help people grow in their faith.
We are currently planning the next Study Course:
"40 Days In The Word"
2020 is the year to love the Word – Live the Word.
Come and spend 40 days looking at the most improtant book in the world – The Bible – It will change your life.
Sessions will be held in the Thornwood Room:

BEGINNING:
Monday 3rd February 7:15pm, or
Tuesday 4th February 10:15am, or
Wednesday 5th February 7:15pm
(choose any of the times)

——————
Previous Study Subjects (most recent first):
Weird – Because Normal Isn't Working (2019)
40 Days of Love (2019)
40 Days of Prayer (2018)
Life of Miracles (2017)
Daring Faith (2016)
Life on a Mission (2015)
Transformed (2015)
What On Earth Am I Here For (2014)
ABBA, a six week series on prayer (2013)
Doing Life Together (2012 and 2013)
Miracles (2012)
40 Days In The Word, to encourage people to read their Bible (2012)
Chocolat (2011)
Foundations the basic doctrines of the Christian faith (2010 & 2011)
The Holy Spirit (2007 & 2011)
A series of books (2008 & 2009)
The Psalms (2008)
The Apostles Creed (2007)