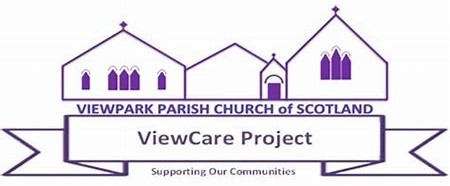 Welcome to the ViewCare Project
The ViewCare Project is a registered charity.

Our aim is to make positive changes in our communities by providing practical relief from hardship through the distribution of basic emergency essentials.
The services offered are open to anyone who needs them.
The ethos and motivation of our services are rooted in the teaching and example of God's Love for His people.
"Love the Lord your God with all your heart, all your soul, and with all your mind and love thy neighbour as thyself "
Matthew 22, 37-38.
This page contains information on all of the ViewCare Projects services:
Viewpark Foodbank
You're Welcome, Home and Clothing Bank
Home Comforts
Neighbourly
Viewpark Food Bank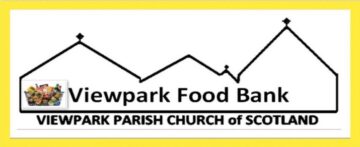 Our service is one of many foodbanks working to tackle food poverty in our local communities.

We are very fortunate to have Susan as our Foodbank Team Leader.
Jim, her husband is her right-hand man and together with a fantastic team of volunteers they work tirelessly to provide a brilliant service.
Although ALWAYS busy Susan usually has the kettle on ready to give anyone who wants it a wee cup of tea and biscuit.

We are open every Wednesday afternoon 12:00 to 2:00pm and Friday 10:00am to 1200 noon.

Please note that the food bank is primarily by referral but should you need a food pack, please contact us:

Email: foodbank@viewparkparishchurch.org.uk
OR
Mobile: 0748 155 9265.

We will try to respond to your emails or calls as quickly as possible but please remember our volunteers are not available full time.
Donations to the Food Bank
There is a trolley in the church hallway for anyone who would like to donate to our Food Bank. Donations can be dropped off here Monday to Saturday any time 9:00am to 3:00pm.

Alternatively, larger donations can be more easily dropped off at the side door of the church within the main car park on Wednesdays 12:00 to 2:00pm and Fridays 10:00am to 1200 noon.

The following food items are gratefully received:
Super noodles
Tinned custard
Soup
Long life milk
Savoury rice
Pasta sauce & pasta
Tinned potatoes & veg
Biscuits
Tinned fruit
Tinned fish or meat
The following non-food items are also welcome:
Soap powder
Cleaning products
Shampoo
Shower gel
Deodorant
Hygiene products
Toothbrushes & toothpaste
You're Welcome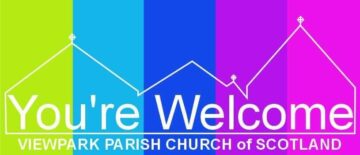 You're Welcome is a home and clothing service which provides essential items to anyone who needs them.

This service is managed by Sheila our Team Leader. She thrives on organisation and that's just as well, as managing the flow of items in and out of this busy service is not an easy task. She copes by colour coding and labelling everything that moves!

Luckily, she is not on her own as she has the support of Lynne our Facebook expert. She updates our page regularly with current requirements, information and thank you posts as well as organising the drop off of all your very generous donations. She has a great sense of humour, is very creative and is always ready to help.

Our team of volunteers are second to none and can sort and fold a table full of clothes in record time. Despite Susan's best efforts they are sometimes even too busy to stop for a wee cup of tea but they never complain.

Home parcels can vary greatly and cover a range of needs throughout our community from someone who may be moving into their first tenancy to someone who may just need a few extra home items. This could include bedding, towels, kitchen utensils, cutlery, crockery, pots, ovenware, cushions and soft furnishings.

Clothing parcels also vary greatly from just a pair of shoes to clothing for whole families.

Distribution of packs takes place twice a week on Wednesdays 12:00 to 2:00pm and Fridays 10:00am to 1200 noon.

Please note that the Clothing & Home Bank is primarily by referral only. However, if you are in need of clothing or home items please contact us:

Email: welcome@viewparkparishchurch.org.uk OR
Facebook: https://www.facebook.com/YWatVPC
We will try to respond to your messages as quickly as possible but please note that our volunteers are not available full time.
Clothing & Home Donation Notice
This service relies heavily on donations from the public. We are very well supported by our local community and are ever grateful for the continued generosity and willingness to help.
Please note that due to space limitations within the church and limited volunteer capacity to manage the volume of donations, we are only able to accept the requested items needed for this service. Please look at our Facebook page which is updated weekly to show the current requirements.
If you have the requested items to donate, please contact us first on our Facebook page to arrange a suitable drop off time. We appreciate your understanding.
Home Comforts

Home comforts is a project started by the Scottish Churches Housing Action (SCHA) and some local Christians. The aim is to provide starter packs for those affected by homelessness in the North Lanarkshire Area.

There is a donation box in the church hallway for anyone who would like to donate the following items:
Washing up liquid
Plastic brush and shovels
Foam filled scourers
Basins
Pot scourers
Bin bags
Hand and dish towels
Cream Cleanser
Dishcloths
Toilet rolls
Neighbourly

The ViewCare Project is now part of the Neighbourly Giving Platform which provides us with a space to share our mission and receive support from local communities, businesses and individuals.
Going forward we will be using this page to assist with online fundraising. Check our Facebook page for details of up-and-coming events for 2022.

In the meantime, if you would like to support our services or donate, please visit our Neighbourly page by clicking here.
Volunteering
If you would like to volunteer to be part of our team, please contact our ViewCare Project Coordinator Emma Lyall:
Email: emma.lyall@viewparkparishchurch.org.uk