At Viewpark Parish Church we have a continuous programme of events and courses intended to teach and nurture us in the Christian Faith.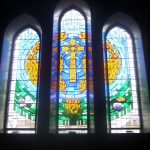 In study courses you can share your journey of faith with others as we learn from one another and from the Bible. Please look out for the next course and feel free to join us, or if you would like more information please contact Michael (the minister).
Email: mlyall@churchofscotland.org.uk
Tel: 01698-813113
Waiting Here For You Nov/Dec 2023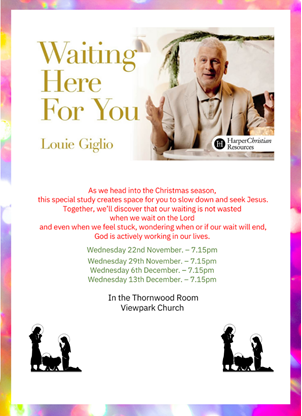 'God On Mute – Sep/Oct 2023

This was a five week journey looking at the difficult questions about Prayer. For example: What do you do when God is silent?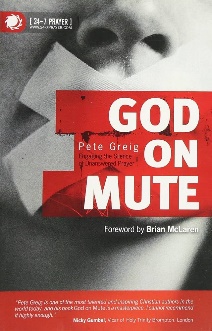 It started on Monday 11th September and ran for five weeks. The groups met in the Thornwood Room on Monday and Wednesday evenings and Tuesday mornings.
'Time to Dream' – Open Doors To Your Future – Feb/March 2023

'Time to Dream' was this spring's Study Group. It started on Monday 6th Febuary and ran for 6 weeks. The groups met in the Thornwood Room on Monday and Wednesday evenings and Tuesday mornings.
Life of Jesus in YOU – September 2022
Life of Jesus in YOU was a 5 week Study Group beginning Monday 12 September. The Groups met in the Thornwood Room on Mondays and Wednesdays and there was also a virtual Zoom Group on Tuesdays.
Life's healing Choices – February/March 2022
Freedom from your hurts – your hang ups and – your habits
This was an 8 week Study Course in the church, or via the Internet using Zoom.
We have all been hurt by other people – we've hurt ourselves – and we have hurt others.
And as a result – every single one of us ends up with some of hurt – hang up or habit.
But the question we all face – is – where do we go from here?
Well this study group offers freedom from our hurts and hang-ups –
eight healing choices – based on the Beatitudes of Jesus –
that promise true happiness – healing and peace.
Each of the 8 Sessions has an accompanying YouTube video which was used in the Sessions, or can still be viewed. Click on these links to view the videos:
Session 1 – Admitting Need
Session 2 – Getting Help
Session 3 – Letting Go
Session 4 – Coming Clean
Session 5 – Making Changes
Session 6 – Repairing Relationships
Session 7 – Maintaining Momentum
Session 8 – Recycling Pain
The Prayer Course – Febuary/March 2021

As we could not meet together, "The Prayer Course" was organised as an on-line study course on Zoom. It took place over eight weeks, six weeks before Easter and two weeks after, beginning the week commencing 8th February.
The course is based on the book "How To Pray" by Pete Greig, the founder of the 24/7 Prayer Movement. It's not necessary to read the book at the same time as doing the course, but it greatly improves your experience if you do. The book costs £10.40 from Amazon or is available on Kindle for £3.99.
The course is split into eight sessions, each of which has an accompanying YouTube video, and it is still possible to study it if you didn't manage to do it already. Click on these links to view the videos:
——————
Previous Study Subjects (most recent first):
40 Days In The Word (2020):
Please go to the 40 Days In The Word page where you can still access the daily audio files.
Weird – Because Normal Isn't Working (2019)
40 Days of Love (2019)
40 Days of Prayer (2018)
Life of Miracles (2017)
Daring Faith (2016)
Life on a Mission (2015)
Transformed (2015)
What On Earth Am I Here For (2014)
ABBA, a six week series on prayer (2013)
Doing Life Together (2012 and 2013)
Miracles (2012)
40 Days In The Word, to encourage people to read their Bible (2012)
Chocolat (2011)
Foundations the basic doctrines of the Christian faith (2010 & 2011)
The Holy Spirit (2007 & 2011)
A series of books (2008 & 2009)
The Psalms (2008)
The Apostles Creed (2007)