Messy Church Breakfast:
Every Sunday at 10am in The Thornwood Room.
Come and hear about God in a new way AND HAVE SOME BREAKFAST!
For ALL the family.
Crèche:
if you have a child under 3 years who you would like cared for during the service please speak to the elder on door duty. The Service can also be listened to from the VIEW cafe if you wish.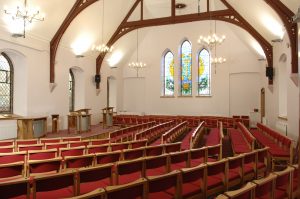 Sunday Service of Worship:
11:00am in The Sanctuary,
Church service for everyone, lively, hear how God loves you more than you can know, great singing, brilliant !
Sunday School:
11:00am in the Large Hall – For children ages 3 to 12; a fun way to learn about how God loves you.
Youth Fellowship:
11:00am – Alternative to Sunday Service if you are in your teens.
Interesting discussions and more !
Tea & Coffee in The View Cafe:
After the Service so around 12:00. Chat to friends, new and old.
If you haven't been before or for a while you will be made especially welcome.