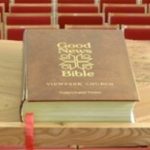 Worship is of course at the heart of everything that we do at Viewpark. Regular Sunday services are at 11:00am.
Normally at the conclusion of the Service we go through to the Cafe and have a cup of tea or coffee, a biscuit and a chat.
Communion Services take place on the second Sunday of March, June, September and December at 11:00am and at 07:00pm on the same evening at Freedom Worship. Elders visit Church Members during the two weeks before each Communion.  This visit is a personal invitation to come to the Service on Communion Sunday. Visitors are also very welcome to participate in Communion.
During the Christmas period there are special Services, the one held on Christmas Eve at 11:15pm being a particular favourite.
There are always special Services during Holy Week (the week leading up to Easter Sunday), held in cooperation with other local churches.
If you haven't been to a Service at Viewpark, please do come and join us.  You will be made most welcome. Hope to see you soon!