Viewpark Parish Church traces its history back to the various mission stations that were formed in the area in the latter part of the nineteenth century when mission to the mining communities was seen as a major priority by the established churches around the area.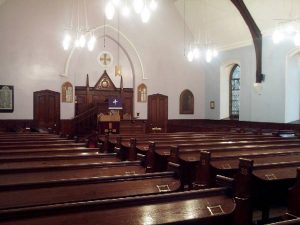 Various mission stations existed at Aitkenhead, Nackerty, Newlands, Tannochside and Thornwood, the earliest meeting in Nackerty Scool being in 1866.  Bothwell Parish Church of Scotland, Park Parish Church and Bellshill Free Church became associated with the growth of Churches from the various mission stations.  Thornwood Church was opened on 24 September 1893, Bothwellpark Free Church in 1896 and Aitkenhead United Free Church in 1905.
On 2 May 1933, Thornwood Mission Church, Bothwell Park UF Church and Aitkenhead UF Church united to form Viewpark Parish Church.  The Church as it is now along with the Small Hall was the former Thornwood Church and Hall and Viewpark still uses the Communion plates and goblets from Thornwood.  The other 2 churches remained in use as hall accommodation.  The Manse in Holmbrae Road is the former Manse of Aitkenhead Church.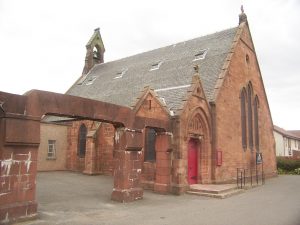 In 1958 the former Aitkenhead accommodation was purchased by Caterpillar as part of the factory grounds.  Caterpillar also contributed towards the erection of the Large Hall and associated accommodation which dates from that time. In 2007/2008 following damage to the original 1893 roof, the Sanctuary was repaired and refurbished at a cost of around £250,000 as Phase I of the View 21 Project.
In 2011/12 the link between the Sanctuary and the Large Hall was demolished and the area infilled with new accommodation, including the View Café, at a cost of about £675,000 (for details see the View21 page).
Ministers of Pre Unification Churches
Bothwell Park UF Church
Rev. John Robert Bruce, 10 August 1899 to 25 October 1914
Rev. George Stewart, Dem. December 1914, Retired 31 December 1932 (d. 20 March 1935)
Aitkenhead UF Church (pre 02 May 1933)
Rev. William Taylor, Dem. 1905, Retired 26 June 1933 (d. 01 June 1937)
Thornwood Mission Church
Mr. James Martin (Missionary) Retired 1933
Ministers of Viewpark Parish Church
 Rev. William Taylor (Moderated till a full time minister was found) Minister for Aitkenhead UF Church
02 May 1933, Retired 26 June 1933 (d. June 1937)
Rev. William Hamilton, Ord and Ind. 24 October 1933, Trans to Pollok Street, Glasgow, 31 May 1942
Rev. William Paul Monteath M.A., Ord and Ind. 27 January 1943, Trans to Thornliebank Spiersbridge, Glasgow, 10 June 1949
Rev. Alexander Maxwell Duff, Ord and Ind. 07 December 1949, Trans to Penilee St. Andrew's, Hillington, 17 April 1957
Rev. John Ritchie May, Ord and Ind. 24 September 1957, Trans to Rothesay West, Isle of Bute, 7 June 1967
Rev. George Kidd Barr, Ord and Ind. 29 November 1967, Retired 27 June 1993 (d. 2016)
Rev. Scott Stein McKenna, Ord and Ind. 27 January 1994, Trans to Mayfield Salisbury, Edinburgh 10 October 2000
Rev. Michael Lyall, Ind. 28 June 2001 – Present Day