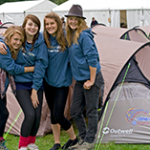 The Senior Section offers young women aged 14 to 26 the opportunity to develop their skills and abilities through a flexible and inspiring programme which offers a huge variety of challenges, activities and opportunities for personal development e.g.
   Peer Educators are guiding members aged 14 to 25 (Senior Section) who have attended a Basic Training weekend and run sessions for their peers. Peer Educators can deliver sessions on a range of topical issues such as bullying and self-esteem, and skills including communication and decision making.
   Young Leaders are aged 14 to 18 and work with a Rainbow, Brownie or Guide unit. They might be working towards their Young Leader Qualification or the adult Leadership Qualification, as well as participating in other Senior Section opportunities
    Advocate! is a Girlguiding youth panel which discusses the issues girls care about and seeks change. The 16 Advocates meet three times every year and get involved with Girlguiding on a national level.